Connecting Across the Generations Through Creative Life Story Work in Care Homes
February 1st until July 15th 2019
Stories for the Soul are very excited to have received £10,000 from People Keeping Well Sheffield City Council fund to work with Sheffcare over the next 6 months.
Creative Life Story work gives opportunities for a person living with dementia to communicate with their family and carers about what is important to them in terms of their memories, experiences, life events, values and beliefs. When used across the generations the benefits can be enhanced and help bring well being to all involved.
Stories for the Soul are working with Sheffcare to run a creative and dynamic training programme and events over 6 months for staff, residents and families.
We will train activities coordinators, care home staff and volunteers to promote inter-generational Creative Life Story Work. We will have a particular focus on enabling this to help families (including young people) to engage with older people living with dementia.
Training will take place in the ten care homes and at The Village Hall on St Phillips Road.
Working with the managers of Sheffcare homes to create a programme of engaging events to equip family members to use Creative Life Story work.
Family engagement days. Leading sessions in the care homes to equip young people (alongside their families) to be dementia friendly and to use Creative Life Story work.
Supporting the activities coordinators, care home staff, volunteers and family members (including young people) as they engage with people living with dementia using Creative Life Story work. Also, providing engaging online support resources to give ideas for longer term life story work and linking them into free local resources they can access.
Sheffcare Volunteer Co-ordinator, Kathryn Rawling, has a detailed plan of the project and can be contacted for more information.
EASTER HOLIDAY FAMILY ACTIVITY DAY
Book in at reception for you and your family to come to this special day. Refreshments provided on the day but please bring your own lunch.
Plan of the Day 10am Welcome and Introduction 10.30am Creative Activity One 12.30pm Lunch break 1.30pm – 3pm Creative Activity Two Come along to the full day or one of the sessions
Mon 1st April Housteads Tues 2nd April Cotleigh Wed 3rd April Castelyn (Morning Only) Thurs 4th April Midhurst Fri 5th April Paddock Hill Mon 8th April Grange Crescent Tues 9th April Knowle Hill Wed 10th April Deerlands Fri 12th April Spring Wood Thurs 18th April Burnt Tree Croft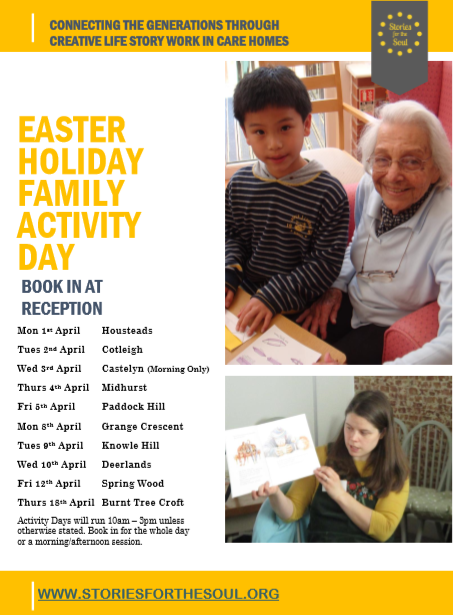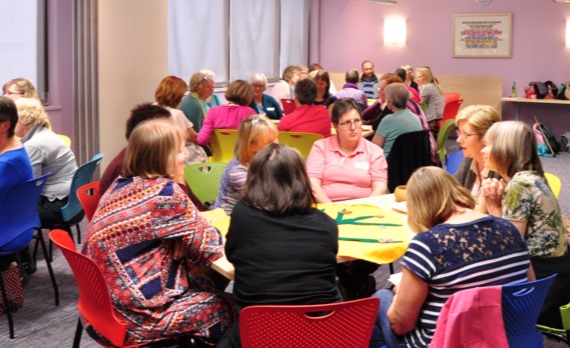 Training Dates @ Sheffcare Village Hall
Monday 4th March 10am-3pm
Tuesday 12th March 10am-3pm
Saturday 23rd March 10am-3pm
Brighten up the living space. We will use recycled fabrics, buttons and thread to make cushions that tell people's stories.
We will use paper collage and paint to create story canvases to inspire and promote conversations.
We think you're a poet, but you don't yet know it! We will have a chance to look at different types of poems and to make one up about your family story.
Download Forms and Resources
Who will be COORDINATING this project?
Caroline has 15 years experience working in and with care homes in Sheffield and across the UK. She currently works as a trainer for Playlist for Life, Stories for the Soul and with The Montgomery Creative Reminiscence Collection.
In 2015 she conducted a Winston Churchill Fellowship project in South America and Europe looking at 'Artists Engagement with Life History Work in Care Home Settings.'
She has worked supporting Stories for the Soul storytellers in Sheffcare homes for the last 3 years and has trained Sheffcare activity co-ordinators to use Playlist for Life.