Easter Holiday Family Activity Days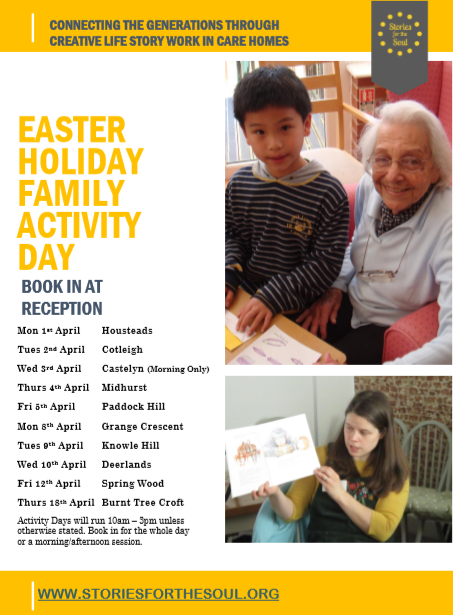 Sheffcare Events
Over the Easter hols I am going to be visiting all 10 of the Sheffcare Homes to run family engagement days! Quite a feat, but I am very much looking forward to it. I love the energy and inspiration that the activity coordinators have so i'm excited to see with what creative ideas we run with.
At the days we will introduce our family activity boxes as well as giving out our Gold Wellbeing boxes to the residents.
We will have a lot of fun playing, getting creative and reminiscing.
If you are a friend or relative of residents at Sheffcare do book in at reception to come along.
Gold Well Being Boxes
We have seen memory boxes used in care homes but wanted to create something that goes deeper to support older people.
"Spiritual well being - belonging to a community in which we can be ourselves and our story is valued - where our feelings and emotions, our search for meaning and purpose, our sense of awe and wonder, our creativity, our beliefs and our relationships are supported."

Stories for the Soul 2018
Our Gold Well Being boxes invite families to not only put together objects and photos for their loved ones with dementia but activities and things of meaning. These could be favourite songs, poetry, prayers, quotes or paintings.